The town of Cuenca in Ecuador - father Crespi with collections, schools, entertainment and Crespi Museum
My motivation in 2012 to go to Cuenca was to see the Crespi Museum which was described in books by Erich von Däniken. Cuenca is a town in southern Ecuador with 277,000 people on about 2,550 m of height in Azuay Province. The center of Cuenca is full of houses in an old colonial style and is a world heritage of UNESCO. Tomebamba River is passing the town [web01]. For goodness sake Cuenca did not suffer bigger earthquakes (yet) and therefore the center is almost complete - and well maintained.
Map of Ecuador with Quito, Guayaquil and Cuenca [1] - aerial photo of Cuenca [2] - row of houses in the center of Cuenca [3]
Cuenca has a strong European cultural tradition, among others taught by father Crespi who died in 1982 (here is a
Crespi chronology
). Crespi is a brilliant model who helped the poor, was organizing collections and entertainment for youth and for young adults, he was organizing schools and education (Colegio Salesiano) and he had a museum (Museo Crespi) with objects which were given to him from the natives. People who had passed this Salesian College with Crespi had a strong and constructive spirit - and this constructive spirit can be seen in Cuenca at almost any corner - with the exception of the loud buses disturbing the atmosphere - as if there would not exist quiet buses in the world.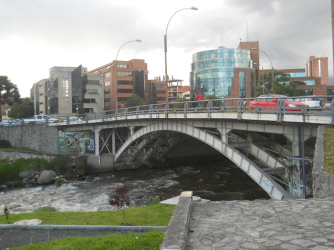 Procession in Cuenca [4] - Crespi monument in Cuenca [5] - All Saints Bridge (puente Todos Santos) in Cuenca passing Tomebamba river [6]
Plundering of the Crespi Museum after his death in 1982: The Central Bank - "distribution" of objects - the Ethnological Museum in the Central Bank but prohibition of photos
When Crespi died in 1982 the Crespi Museum was dissolved, parted and partially plundered as my search in 2012 indicated. UNESCO was defining the center of Cuenca as a world heritage in the same year of 1982 but the Crespi Museum was not protected (!). In other words: the mentality of some responsibles in Ecuador seems not so "maintained" unfortunately like the center of the town. The chance to install a big Crespi Museum as an attraction for Ecuador and the whole world was missed. The metal relief plates (Láminas) which are described in some books of Erich von Däniken were scattered to all possible private households (estate 2012), as a speculation object as it seems. Nobody of the responsibles in the Salesian College or of the museum's management in the Central Bank wanted to tell me where the "Láminas" are today (2012). The reliefs telling history of former times seem to be absolutely not important for the responsibles. And when I was asking more then the people got distrustful.
Not only the golden and silver relief plates had gone but also many paintings of the Crespi collection had gone: First they were handed from the Salesian responsibles to the Central Bank of Cuenca (Banco Central) for administrating this treasure. But the responsibles of this Central Bank let "vanish" these paintings step by step selling them secretly or distributing the painting to "representative" locations in the whole country. Only a little part of the paintings can be seen in the bank of "Banco Central" in Cuenca yet but taking photos is forbidden and there are no picture postcards either.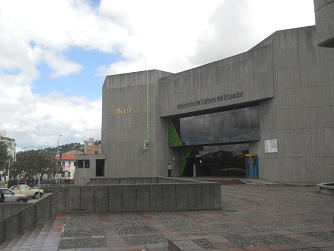 The Central Bank's Museum (Museo dl Banco Central) in Cuenca [7] - the mark of "Museo Pumapungo", another name for the Central Bank's Museum [8]
"Puma pungo" is Ecuadorian Quechua meaning "Puma's Bridge".
This Central Bank in Cuenca has installed an own Ethnological Museum ("Museo de la Cultura", "Museo Pumapungo") which is know also - as "Central Bank's Museum" ("museo del Banco Central"). There are the colored ceramics and clothes and rites of the natives of Ecuador but no photos were allowed. Museum's police is following the visitor so no photo was possible. This is really a pity because there were no picture cards or books either of the objects. There is missing just something about tourism and education management - in this Central Bank. Without photos or books any research is blocked and no comparison with other cultures are possible.
Well, only in the outer area of the Bank's Ethnological Museum photos were allowed where passed towns were described. On a wooden board with a description of the passed town of Tumipampa an extraterrestrial was catching my eye, just burned into the wood. This figure I had seen on a ceramic in the Bank's Museum already (but no photos were allowed). On the board there was this extraterrestrial (an angel or a giant) just in an unremarkable way left above - with a triangle head, a rectangular trunk, big wings, antennas on the head, a scepter as big as the extraterrestrial himself - this was just a little greeting what could be found in Cuenca with extraterrestrials yet.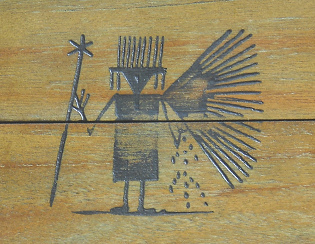 Board with the description of the passed town of Tumipampa [9] - extraterrestrial with wings, antennas and triangular head on the board of the passed town of Tumipampa [10]
The Native Museum (Museo de los Aborígenes) in Cuenca (also: Archeological Museum of Cuenca - Museo Arqueológico de Cuenca)
There were more objects collected by father Crespi like colorless ceramics. It seems that the banksters in Ecuador considered them as without value. Thus the colorless ceramics were not distributed or sold, but a Native Museum ("Museo de los Aborígenes") was installed with it at Calle Larga (Long Street) just aside of Tomebamba River at the border of the center of the town being managed by a foundation. The banksters of the Central Bank - without any history knowledge - do not see the value of colorless figurines. The foundation is administrating this archaeological treasury preserving the recording of the past.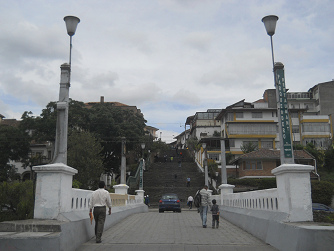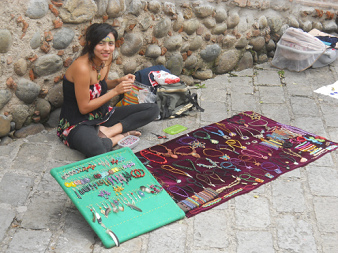 The big stairs to Calle Larga [11] - handicrafts on the stairs to Calle Larga [12] - road sign of Calle Larga (Long Street) in Cuenca (Ecuador) [13]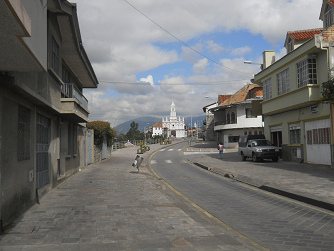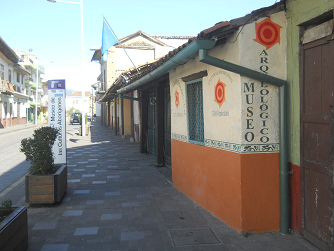 A part of Calle Larga in Cuenca in Ecuador [14] - the mark for the Native's Museum (Museo de los Aborígenes) at Long Street (Calle Larga) in Cuenca in Ecuador [15] - the entrance [16]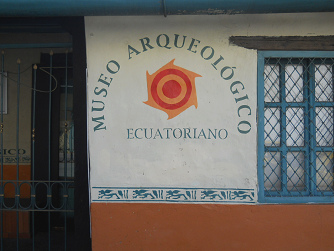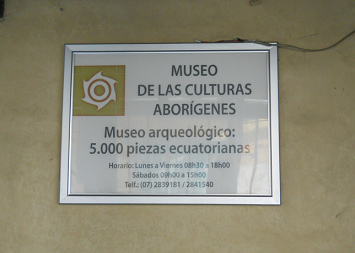 The logo of the Native Museum indicates to be for the Archaeological Museum (Museo Arqueológico), other name for the same museum [17] - opening times: Mo-Fr 8:30am-6pm, Sa 9am-3pm - Sunday closed (not so good) [18] - the inner yard with a cafeteria [19]
Additionally the winged lion from the museum's logo could not be verified in the museum itself. There is nowhere any winged lion in the museum. It seems that it was only copied from Asia somewhere.
Well, this Native Museum is a paradise for pre astronautics with about one dozen or more astronauts and hundreds of mixed beings and fabulous animals which are nowhere described in any travel guide. The museum is defining the statues and figurines simply as "anthropomorph" (similar to humans) or "zoomorph" (similar to animals), or astronauts are also called "dancers". Well, vain NASA will have to learn something, and in all history encyclopedias some pages about early history are missing.
At the counter an e-mail museoculturasaborigenes@hotmail.com was indicated. Looking for this e-mail in the Internet I landed on a web site of the museum in Spanish:
http://museoculturasaborigenes.com/
.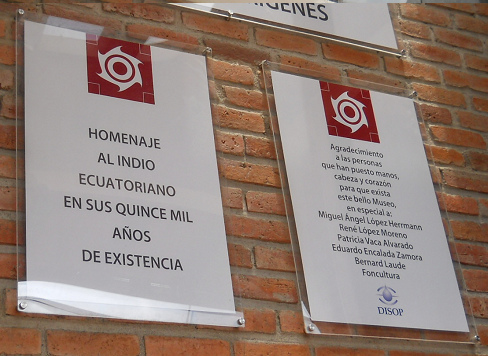 The counter of the Native Museum (Museo de los Aborígenes) in Cuenca in Ecuador [20] - the dedications and thanksgivings [21]
The astronauts in the Native Museum of Cuenca in Ecuador
As already mentioned the astronauts are only called "anthropomorphic" or "zoomorphic" beings or "dancers". In this way the passed cultures are systematically degraded. Unfortunately "good Christians" in Ecuador are very conservative yet until today and they are stubborn until they die also when the astronauts are "presenting" themselves to them in real - and the pastors and bishops of Ecuador are not giving in (until today) simply because they mean that an interpretation as "astronauts" would just be one of the "interpretations".
Well, in the second floor - there they are - the astronauts of early times of pre astronautics! How long wants the Catholic Church deny this yet?
Chorrera culture (1,500-300 BC. appr.) with astronauts
The Chorrera culture was in the today's provinces of Guayas, Los Ríos, Manabí and Esmeraldas in the lower parts of today's Ecuador [web07].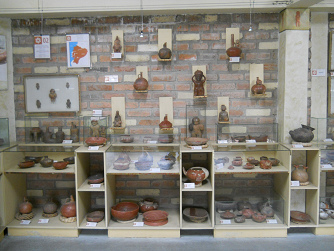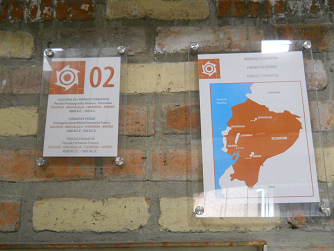 Section with Chorrera culture [22] - the text of the museum indicates in general all early cultures Valdivia - Machalilla - Chorrera - Narrío 4,000-500 B.C. [23]
For the Chorrera culture different data are indicated: The museum is not indicating anything special. Wikipedia indicates 1,300-300 B.C. [web02], Antje Baumann on her native works (www.indianerwelt.de) indicates 1,200-500 B.C. [web03], an Ecuadorian web site indicates 1,500-500 B.C. [web07] and a French web site indicates 1,800-500 B.C. [web10]. Precise research is needed indeed.


The map of the museum of the cultures Narrío, Valdivia, Chorrera, Machalilla and Cotocollao in today's Ecuador (Valdivia was 2,000 years before Chorrera [web12]) [24] - and there is a map with Chorrera culture in the lower parts of today's Ecuador [map 1].

The astronauts of Chorrera culture are clearly visible. Very characteristic are helmets, smooth space suits and foregoing long slit eyes which are much longer than the mouth is, and characteristic is also the compact body with a head as big as the complete chest and lung area. The arms only reach the hips and the legs are very short. Additionally the neck is missing. But it seems that these extraterrestrials with helmets and slit eyes, short arms and legs had a certain importance because the natives themselves never presented themselves in such an impressive way: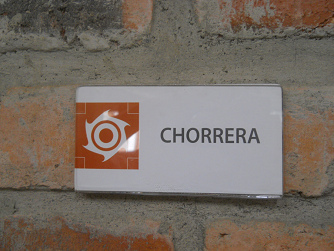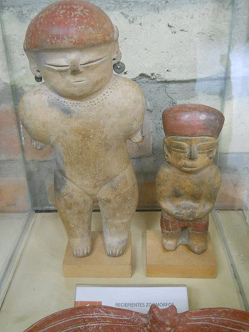 The tab of Chorrera culture [25] - big astronauts of Chorrera culture [26+27], and all this should be "anthropomorphe" sculptures ("similar to humans"), more is not allowed to say in this Catholic museum... [28]
Well, in Quito in the Archaeological Museum (Museo Arqueológico) in the House of Cultures ("Casa de la Cultura") are seven more such astronauts, two of them sitting in an Indian style - in the show cases about Chorrera culture.
Narrío culture (2,000-600 B.C. appr. [web04]) with astronauts
Narrío culture was concentrating around Narrío Mountain in southern Ecuador in the high Sierra [web08]. The population was existing from 2,000-600 B.C. according to ecuatur.com [web04]. The web site of viajandox.com indicates a general population of the Narrío Mountain with 2,500 B.C. until 1,532 D.C. [web09].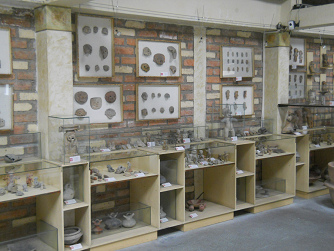 Sections of Narrío culture [28+29] - and a map with the Narrío culture indicated in southern Sierra of today's Ecuador [map 2].
And here just 6 astronauts are presented of Narrío culture which are described as "dancers". Well, they were dancing for sure but not only this...


Tab for Narrío culture [31] - 6 astronauts of Narrío culture [32] - and the astronauts should only be "dancers" [33]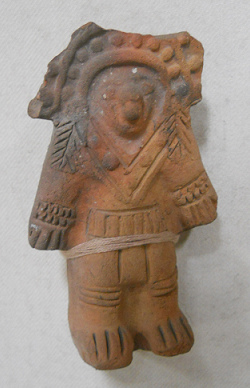 Astronaut figurines of Narrío culture [34, 35, 36]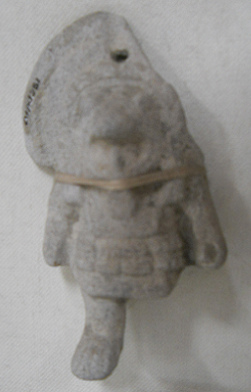 Astronaut figurines of Narrío culture in white [37, 38, 39], the first one with a NASA space suit
When there are so beautiful astronauts then the research should head on for searching this Narrío culture. But the situation in the Internet is just another one. The data are contradicting and maps are hardly existing. But it seems that NASA has copied the space suit from the extraterrestrials...



Jama-Coaque culture (500 B.C.-500 D.C. appr.) with astronauts and flying gods (extraterrestrials)
The museum indicates for Jama Coaque culture 500 B.C. to 500 D.C. Other sources (culturase) indicate 500 B.C. to 1,531 D.C. [web05], or the video "Cultura Jamma Coaque" indicates 500 B.C. to 1,500 D.C. [web06], or the archaeological web site of guangala.com indicates 200 B.C. to 800 D.C. [web11]. Well, there seems to be some need of research.
Map of Jama Coaque culture (today's provinces of Esmeraldas and Manabí) [maps 3+4]
The settling area of the Jama Coaque culture was along the coast line of today's provinces of Esmeraldas and Manabí. In the video (cit.) the figurines and little statues are described as a great "art's treasury" [web06]. Well, there are astronauts and even flying extraterrestrials - one even with wings on his ears - it's just more than art.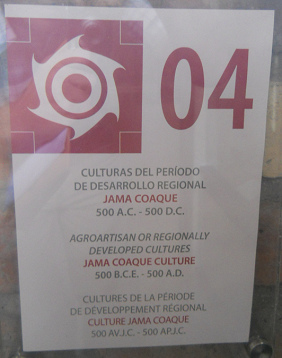 Section of Jama Coaque culture [41+42] - the plate with the museum's indications about Jama Coaque culture [42]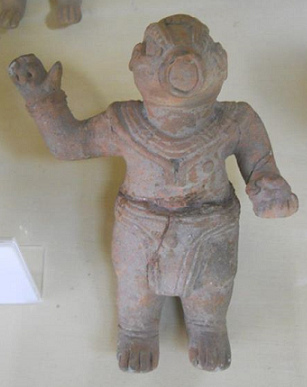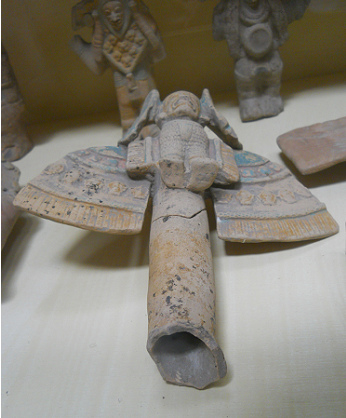 Astronaut figurine of Jama Coaque culture [43] - winged god of Jama Coaque culture 01 with 4 wings (2 on the back and 2 on the ears) [44] - inclined photo [45]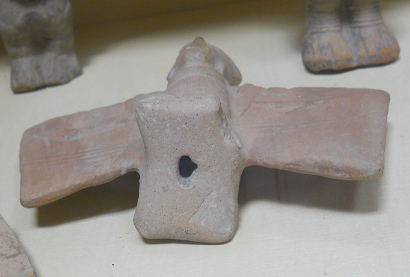 Winged god of Jama Coaque culture 02 [46] - inclined photo [47]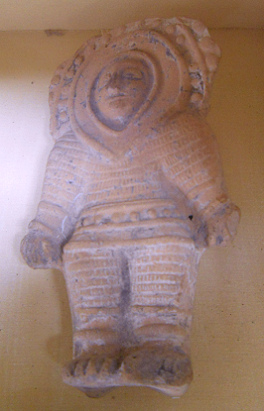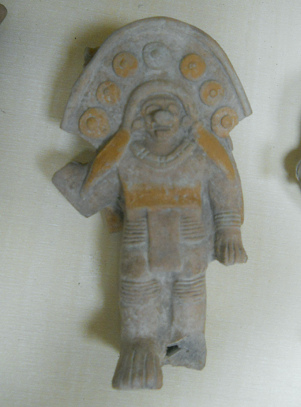 Astronaut figurines of Jama Coaque culture 02 [48] - 03 [49]
And imagine: In the Archaeological Museum (Museo Arqueológico) in Quito in the "Casa de la Cultura" one can find further such astronauts and one more winged god - in the show cases about Jama Coaque culture.
Big questions to the research: names? function? parallels? gold and silver plates with reliefs about old history of Ecuador?
Considering these astronauts of different old cultures of Ecuador in just one single museum there is just one conclusion first: The historic research has failed completely until today. Since Crespi these figurines are publicly accessible and research is practically not existing. Also when a dancer has got a space suit as we know from NASA this figure is called only a "dancer" in the museum and not as an astronaut. Well, some time this hide-and-seek of the church and of NASA will have an end.
When the astronauts will be called as what they are? Stone Age was just not only a "Stone Age", and "old cultures" were just not only agriculture but astronauts came from time to time from other solar system from other stars. And with this new questions are coming up:
Are the astronauts and their stars of origin somewhere prescribed in the artifacts or in scriptures or in paintings?
Are there pictures or paintings with space ships in Ecuador?
How are the extraterrestrials of the Ecuadorian cultures called? What was their function? What did the extraterrestrial teachers teach to the cultures?
Are there parallels to the cultures of Central Asia or Egypt?
And the golden and silver relief plates from the Crespi museum are missing. Are these "Láminas" recollected sometimes so the motives about old Ecuadorian history can be contemplated and studied?
One should not let go archeology and arts only to a bank. But the banksters were so blind at least that they did not see the astronauts and did not sell them.
And in the history encyclopedia there are really missing some pages about early history so...