Machu Picchu: The Mummy Cave with stairs in one piece, with a curvy wall, and with an altar stone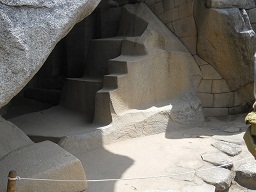 The Mummy Cave is under the Sun temple - the entrance to the Mummy Cave with one more step in one piece - the curvy wall with curvily distorted curvy stones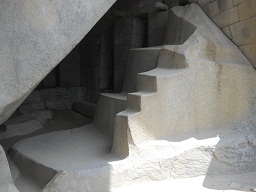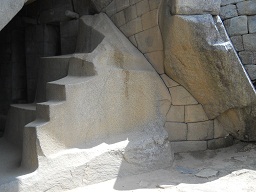 Mummy Cave: the stairs are made in one piece, and the wall is curvy and distorted, panoramic photo 1 - Mummy Cave: stairs in one piece 2, 3 and curvy distorted wall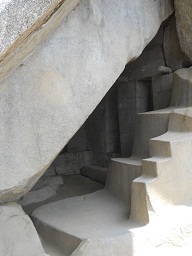 Mumienhöhle: the stairs are in one piece,and the curvy wall is even distorted, panoramic photo 02 - stairs in one piece 4, 5 with the curvy distorted wall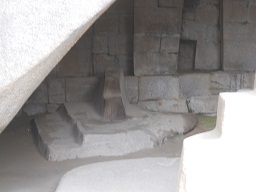 Machu Picchu: inside the Mummy Cave - altar stone inside the Mummy Cave, panoramic photo 1,2
Comment: So, when there is an altar stone in the cave this does not seem the right place for storing mummies, but see the perfect walls: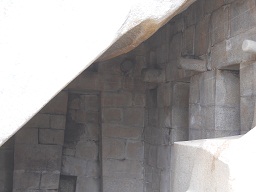 The inner of the Mummy Cave 2,3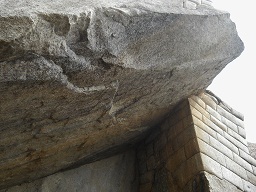 Mummy Cave in Machu Picchu, the connection between the rock and the stony wall - the rock is cut in an absolutely flat way 1,2 - Mummy Cave in Machu Picchu: the lower part of the curvy wall, zoom
Who cut these stones? All stones are put WITHOUT mortar and are built in a QUAKESAFE way. Natives with a wooden spoon weren't it for sure - these were extraterrestrials.
Machu Picchu: view from the Mummy Cave to Putucusi Mountain