from: Dilwyn Jenkins: The rough guide to Peru; Rough Guides, New York, London, Delhi; 6th edition September 2006; www.roughguides.com
The jungle of the Madre de Dios department
Madre de Dios boasts spectacular virgin lowland rainforest and exceptional wildlife. Brazil-nut tree trails, a range of lodges, some excellent local guides and ecologists, plus indigenous and colonist cultures are all within a few hours of Puerto Maldonado. Serious jungle trips can be made here with relative ease and without too much expense, and this part of the Amazon offers easy and uniquely rewarding access to rainforest that is much less disturbed than that around Iquitos, or Manaus in the heart of the Brazilian Amazon, for example (p.550).
Bus connections from Puerto Maldonado to the surrounding region
There are two main routes out of Puerto Maldonado: Avenida Fitzcarraldo brings you out at the cattle ranches on the far side of the airstrip; while if you turn off on [Jirón] 28 de Julio, you can take the road as far as you like in the direction of Laberinto, Quincemil and Cusco. A regular bus and colectivo ($5) service now connects Puerto Maldonado with Laberinto (leaving from the
Hotel Wilson
, or from the main market on [Jirón] Ernesto Rivero), some ninety minutes away. Formerly a gold-mining frontier settlement, since the early 1990s it has been surpassed in importance by the settlement of Masuko, deeper into the forest, and is now important mainly for its role as an upriver port for Puerto Maldonado; most boats going upstream start here, though if you're planning to visit Manu Biosphere Reserve, you should set out from Cusco (p.545).
Boat connections from Puerto Maldonado to the surrounding region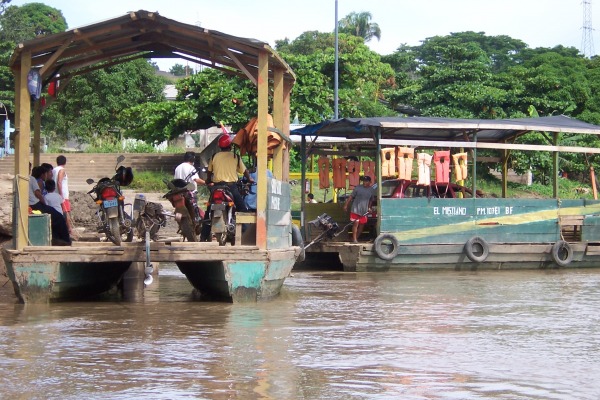 Port of Puerto Maldonado with ferries with swim wests
There are two main ways to explore: firstly, by arranging your own boat and boatman; and secondly, though considerably more expensive, by taking an excursion up to one of the lodges (p.550).
Puerto Maldonado has two main river ports, one on the Río Tambopata, at the southern end of León de Velarde, the main street, the other on the Río Madre de Dios, at the northern end of León de Velarde; from the former, there's a very cheap ferry service across the river to the newish road to Brazil (p.546).
From either it's possible to hire a boatman and canoe for a river trip; prices usually start at $25 per person for a day journey, for a minimum of two people; this rises to $35 for (p.546)
trips of two to four days. Boats are equipped with a
peque-peque
or small outboard motor, and usually take up to twelve people. If you're prepared to pay significantly more (from $100 a day per person, again for a minimum of two), you can find boatmen with speedboats and larger outboard motors (p.547).
The natural reserves around Puerto Maldonado
Yet, while the department's scattered towns and villages are interesting for their Wild West energy and spirit, most visitors come for the wildlife, especially in the strictly protected
Manu Biosphere Reserve
- still essentially an expedition zone - and the cheaper, less well-known
Tambopata-Candamo Reserved Zone
, chiefly visited by groups staying at lodges;
between them these areas encompass some of the most exciting jungle and richest flora and fauna in the world.
Tambopata Candamo National Park with lodge, lakes, birds, jaguars, and natives on a float (raft)
The newest protected area is
Bahuaja-Sonene National Park
; created in 2000 and surrounded largely by a massive rainforest area formed by Tambopata, it is intended to show the Peruvian government's support for this region as an ecological treasure. Taken together, these three zones comprise some 1.5 million hectares, almost the size of Manu (15,000 square kilometers),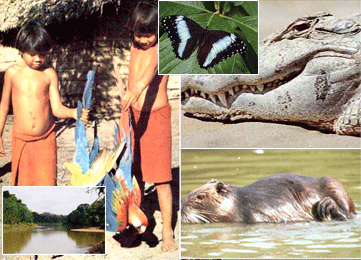 Bahuaja-Sonene National Park with natives with a macaw, a lake, a crocodile and a capybara
and if you add on the
Madidi National Park
- just across the border in Bolivia - the protected area in this corner of the Amazon exceeds 50,000 square kilometers.