from: Dilwyn Jenkins: The rough guide to Peru; Rough Guides, New York London, Delhi; 6th edition September 2006; www.roughguides.com

Arrival at Ayacucho
[Telephone dialing code for Ayacucho is 066, international 0051-66].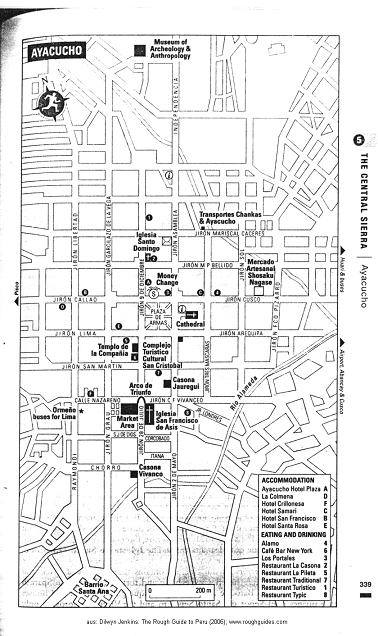 Map of the center of Ayacucho with some tourist information

Airport or bus terminals
Most visitors arrive in Ayacucho from Lima or Cusco, either on the thirty-minute
flight
, which lands at the airport 4km from town (p.340) (airport, Avenida del Ejercito 950, T. 066-312418, daily 6am-6pm (p.343) - a taxi into town costs $3-4, buses cost 50 cents and leave from just outside the terminal - or overland by
bus
.
[The flight connections are not so often, about every second day, and they cost more than a flight to Cusco because the flights are so rare. This was the situation in 2007].
If you're arriving from Huancayo, Huancavelica, Cusco or Lima the bus companies mostly have their depots along Jirón 3 Mascaras or Avenida Mariscal Caceres, both within a few blocks of the Plaza de Armas (p.340).
Bus companies in Ayacucho
Cruz del Sur
9 de Diciembre, Ayacucho, block 4, for Lima
Ormeño
Jirón Libertad 257, Ayacucho, T. 066-812495, for Lima
Empresa Libertadores
Jirón Mascaras 496, Ayacucho, for Lima, Abancay and Cusco
Emporesa Molina
Jirón Mascaras 551, Ayacucho, for Huancayo
Transmar
Avenida Mariscal Caceres 896, for Lima, Abancay and Cusco
Transportes Chankas
3 blocks north of the Plaza Mayor on Jirón Mariscal Caceres, for Andahuaylas
other bus companies
at Pasaje Caceres, block 1
or Avenida Mariscal Caceres, blocks 7-17
or Avenida Manco Capac, blocks 2-4 (p. 343).
Airlines in Ayacucho
Star Up Airline
Jirón Lima 261, T. 066-816690
Accommodation in Ayacucho
Finding a room in Ayacucho is easy enough outside of the Easter period when, because of the colourful religious festivals, the town is bursting at the seams with visitors from Lima and elsewhere. Most of the
hotels
are located in interesting old properties, but service is generally good and many places have been tastefully modernized (p.340).
Hotels in Ayacucho
[Cheap hotels
Cheap hotels in Ayacucho are really cheap and only the business card is well made. People are so poor that they run hotels for the money of their own house or for computer kits. Renovations in the hotels are rarely or not made, the beds are absolutely bad in cheap hotels in Ayacucho, or when you take a hotel on Jirón 9 de diciembre there will be noise from the discotheque through the basement of the whole street until 2 o'clock and from Tu-Su until 4 o'clock (this was the decision of tha mayor in 2007). Cheap hotels in Ayacucho don't have warm water, don't have shower curtain and all the bath is full of water after the shower, don't have window curtains and so on. So there is no other solution you have to spend more money for a good hotel in Ayacucho than in Lima, that means not 30 Soles but 40 Soles per day at least...].
Ayacucho Hotel Plaza
Jirón 9 de Diciembre 184, T. 066-812202, Fax 812314
Easily the most luxurious hotel in town, set in a fine, stylish colonial mansion, it has TVs in every room, private baths and a reasonable restaurant, though service can be slow. Centrally located on the Plaza de Armas.
La Colmena
Jirón Cusco 140, T. 066-811318
Clean and good value with the added luxury of a beautiful, flowered courtyard.
Hostal San Blas
Jirón Chorro 167, T. 066-81418
A great budget option with friendly service and pleasant, quite spacious, comfortable rooms; private bathrooms, laundry, cooking facilities and a reliable hot-water system.
Hotel Crillonesa
Calle El Nazareno 165, T. 066-812350
Hostel with great views of the city and valley from its rooftop terrace; there's hot water and a laundry service, and rooms are clean and very good value.
Hotel Samari
Jirón Callao 329, T. 066-812442
A fine, welcoming place to relax for a few days, just two blocks east of the Plaza de Armas.
Hotel San Francisco
Jirón Callao 290, T. 066-812353
Every room in this high quality hotel has a TV and private shower. There's a nice café on the roof with great views overlooking town. Breakfast is included.
Hotel Santa Rosa
Jirón Lima 166, T. 066-814614
Only half a block from the Plaza de Armas, with a decent restaurant and friendly service (p.340)
Tourist information
Tourist information
is available from the Municipalidad building on the Plaza Mayor (Mon-Sat 9am-8pm; T. 066/818308 or 818305, www.regionayacucho.gob.pe), which has helpful staff who can arrange trips in the area; there's also a tourist information kiosk at the airport (Mon-Sat 8am-8pm) (p.340).
Banks and exchange
Travelers' cheques can be changes at the Banco de Credito, on the Plaza Mayor (Mon-Fri 9.15am-6pm) or sometimes in the larger hotels. Black market
cambistas
gather on on Jirón 9 de Diciembre, near the corner of the Plaza Mayor, giving good rates, but will only accept dollars and euros cash (p.343).
Hospital: Avenida Independencia 355, T. 066-312180
Post office: Jirón Asamblea 295, 2 blocks from the plaza. Mon-Sat 8am-8pm
Telephone office: Jirón Asamblea 293. Daily 8am-10pm
Tourist police: Corner of Dos de Mayo with Jirón Lima, right on the plaza and close to the Cathedral (p.343).
The town of Ayacucho
Ayacucho is a colonial city with many churches (p.340).
["Christian" terror has not extinguished all native wisdom about nature as in Europe. The "Christian" terror only lasts 600 years, in Europa 1,600 years. So one can find the old native wisdom in Ayacucho and in the countryside with healers (curanderos) or healing angels (angelitos). Spanish you must speak for that for conversation at least].
Tours around Ayacucho
Take a guided tour, and the tourist information office will arrange trips in the area for you. There are also half-day tours to Pikimachay for around $15 and half-day tours to Huari also for about $15, also full-day trips to Huari and Quinua for $25. The tour companies are:
-- Quinua Tours, Jirón Asamblea 195, T. 066-912191
-- Urpillay Tours, Portal Independencia 62 and Jirón Asamblea 145
-- Warpa Picchu Eco-Aventura, Portal Independencia 66, Plaza de Armas, Syacucho, T. 066-815191, www.warpapicchu.com (p.343).
[When you speak Spanish you can arrange any tour with the common bus. Just ask in the tourist office where they start and you can take very cheap trips within the Peruvian population who will be very curious, and you will see how the natives go with their luggage in their blankets (they have no suitcases) or with a pig on the roof or even with a lamb on their knees or who they nurse their babys in the bus at their breast and there is no smell and nothing odd at all with it].
Museums
Museo Pinacoteca de San Francisco de Asis
(Mon-Fri 9am-noon & 3-6pm; free), in block 3 of 28 de Julio, is known for its library of unique historical works (p.341)
Museo de Arqueología y Antropología (Museum of Archeology and Anthropology)
also known as Museo INC, on Avenida Independencia (Mon-Sat 9am-noon & 2-6pm; 80 cents, T. 066-912056, about a thirty-minute walk (taxi, 5 min) from the old center, is full of local archaeological (p.341) finds, mainly ceramics, dating from several millennia ago, plus exhibits from the Chavín, Huarpa, Nasca and Inca eras (p.342).
Art galleries
-- Casona Vivanco, Jirón 28 de Julio 518 (Mon-Sat 10am-1pm & 3-6pm, 50 cents), with a particularly good collection of colonial art
-- Galería de Arte Popular (Popular Art Gallery), Jirón Asamblea 138 (Mon-Sat 9am-6.30pm; free), specializing in regional art (p.341).